BDetails
Date: 02/11/2008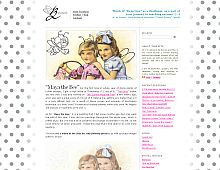 Rate It:
Color Scheme
Hovered color:
Selected color:
Comments (7)
I like the idea for the background, however, I know it is a small detail, but the little 'paint-splats' that repeat with the bg are killing me!

Did you try it without them? Just an observation, disregard if I am the only one. Other than that, I think it looks really good.
I agree! the background image is awful!
#2:

a guy

on 02/12 at 07:05 PM
I dont think that it is awful, I just think that the paint spots should appear more random if they have to appear at all. There should be nothing noticeable or repetitive about random drops of paint.

I think it would look a lot better if they were just not there. It would look much cleaner.
I agree, the bg is awful and distracting, rest of site is hot!
Thanks for the comments. I agree that the background can be improved. I used a dot image from a painting that I did which had some splatter/drips...and I guess I didn't realize the drip repeat was annoying. I redid the background with clean version of large dots and a lighter gray to have less contrast and focus on content. It should look smoother and cleaner.

The dots whether you like or not, were my form of expression. Since the blog is about my art, I thought in this site example I could do something a bit more me, my painting style... and create a blog that isn't so square in terms of look. It isn't common to add bg dots, and I wanted to because I have used dots or stripes in my paintings. So I hope that explains a bit why I've placed them, it wasn't a random/unconnected idea. It is more about who I am, to a sense each artist has a style and even using a blog format I still wanted to add a little extra flavor... I hope overall you like the site, and that, now it has improved.

Thanks again for the comments. Much appreciated!
looks great :) and thanks for listening to the ppls advice.
it looks pretty good to me.
(Total Pages: 1)
Commenting is not available in this weblog entry.