ArtFlavours
Date: 10/05/2008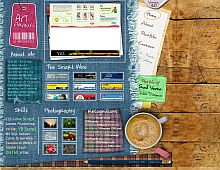 Rate It:
Color Scheme
Hovered color:
Selected color:
Comments (2)
wow. Almost none of the text is readable, lack of good contrast. Nice idea though.
Also, you should like to some live ref''s.
#1:

guy

on 10/05 at 07:42 PM
OOOOUCH! my eyes are hurting bad from trying to read that text! need to go get some visine now...
#2:

aguy

on 10/06 at 02:37 AM
(Total Pages: 1)
Commenting is not available in this weblog entry.