ACS
Date: 10/21/2005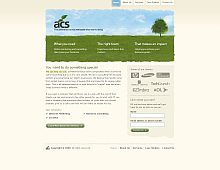 The CSS menu at the top is simple yet stylish. Speaking of navigation, my only beef is that some links are not immediately apparent as links, such as the upper right blue area ("Services").
Rate It:
Color Scheme
Hovered color:
Selected color:
Comments (2)
Where can we find professional pictures like that? This design is very clean and accessible. Nice work!
I use iStockPhoto alot.

They actually seem to have several similar photos:
http://www.istockphoto.com/file_search.php?action=file&text=seedling+hand&filetypeID;=
#2:

msquared

on 10/26 at 06:59 PM
(Total Pages: 1)
Commenting is not available in this weblog entry.