Zoka Coffee
Date: 03/21/2006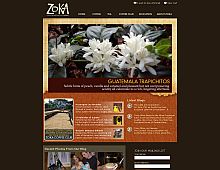 A an overall gorgeous design. I love the textured background and appropriate color scheme matching the topic of this site.
Rate It:
Color Scheme
Hovered color:
Selected color:
Comments (2)
Simple, easy to read, yet classy enough to create a really great feel for a coffee site. Excellent work!
#1:
Dan
on 03/23 at 11:35 PM
Very nice site!
#2:
NeboN
on 03/25 at 11:53 PM
(Total Pages: 1)
Commenting is not available in this weblog entry.