Zenful Creations
Date: 05/16/2005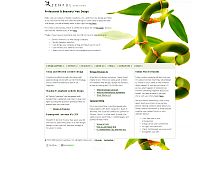 What a handsome, elegant design. The fine choice of interesting background images really brighten things up.
Rate It:
Color Scheme
Hovered color:
Selected color:
Comments (12)
HI,
this site content wise is ok, but i'm not sure it warrants a place on css drive from a design point of view. It's quite plain with basic css.
Sorry, but that's the way i feel.
#1:

jimmy_t

on 05/17 at 11:20 AM
Thanks for listing my site.

It is supposed to be plain and basic. That was the point :)
#2:
Lori
on 05/17 at 02:01 PM
I like the design- very clean and eye catching. There's a JavaScript error in IE though that pops up.
#3:

Shimar

on 05/17 at 11:29 PM
I had to just change my tracker because of this listing and I think it may be the error as it is the only js in use... Thanks for saying something ele I would not have known :)
#4:
Lori
on 05/17 at 11:47 PM
I love the look and feel of the site. Very elegant.
Site's content is nicely styled. THe nav does a lil jumping do to 0 borders, just have borders there all the time but white so there is no movement. Other than that, simple clean, the photo is really what makes it.. so can be lil boring
#6:

[Tyrant]

on 05/24 at 12:33 AM
Tyrant: Thanks for pointing out the jump. I removed the borders on hover, and that took care of that. :)
#7:
Lori
on 05/24 at 01:34 AM
It's simple yet very elegant design. I like it a lot!
#8:
Pam
on 11/01 at 01:07 PM
Nice, simple and elegant. Lots of whitespace, -which for a 'clean' un-cluttered look, is required.
The green bamboo is what makes the page work. Good image.
Well done!
#9:
Joel
on 11/26 at 12:31 AM
Just a quick thanks to all the new comments! I appreciate all your visits and thoughts.
#10:
Lori
on 12/12 at 09:36 PM
Commenting is not available in this weblog entry.