YesterdayisHere
Date: 03/14/2005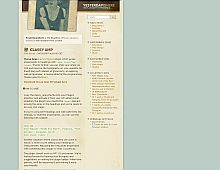 I love the unique and gentle blend of colors that make up this design, along with the image interfaces.
Rate It:
Color Scheme
Hovered color:
Selected color:
Comments (2)
I'm sure this author submited a site to CssZenGarden. Anybody saw it anywhere?
Nope, I did not submit anything yet to CSS Zen Garden, but I intend to :) Cheers!
#2:
Bojan
on 03/16 at 02:48 AM
(Total Pages: 1)