XHTML Team
Date: 05/09/2007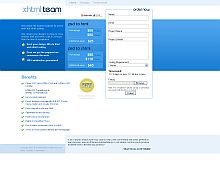 Rate It:
Color Scheme
Hovered color:
Selected color:
Comments (1)
A couple of things.. first off.. it doesn't pass validation.. secondly.. you offer no way for potential clients to contact you.. only "Order!".. and where are examples of work done for previous clients? you don't expect people to believe you can write code that will validate, when your storefront itself doesnt.. do you? Fix the shortcomings..
#1:

Kefs

on 05/09 at 03:49 PM
(Total Pages: 1)
Commenting is not available in this weblog entry.