Words for my Enjoyment
Date: 07/13/2005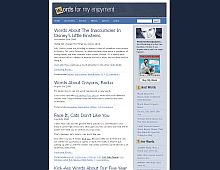 A very together, eye pleasing design. I like the simple but stylish hover menu bar at the top.
Rate It:
Color Scheme
Hovered color:
Selected color:
Comments (4)
Where I can download this beautiful theme?
#1:

Gustavo

on 09/30 at 09:32 AM
You're kidding, right? Theme? Dude, we make this stuff. You don't simply go out and 'get a theme'. Learn to make it for yourself.
#2:

Bob

on 12/24 at 01:45 PM
Looks very similar to

http://www.sporadicnonsense.com/
#3:

Jim

on 01/31 at 06:33 AM
lol Bob, learn to make it for yourself.
http://www.sporadicnonsense.com/
#4:

Janice

on 04/28 at 03:08 PM
(Total Pages: 1)