Wiva Blumen
Date: 11/07/2005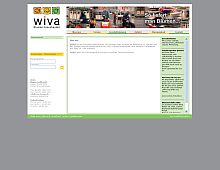 A lovely use of a non scrolling background image. It makes a world of a difference with this design.
Rate It:
Color Scheme
Hovered color:
Selected color:
Comments (2)
Nice to see those curves, diagonals and breaking the gridlock. White space gives it an airy relaxed feel
#1:
Peter
on 11/07 at 12:58 PM
hmm.. not really visually appealing.
#2:

moeed m

on 11/07 at 01:15 PM
(Total Pages: 1)