WishingLine Studios
Date: 08/04/2005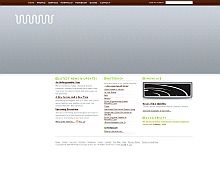 I like the clean design using large image pieces to anchor your eye. The top navigational strip that runs across the top of the screen is nicely done as well.
Rate It:
Color Scheme
Hovered color:
Selected color:
Comments (4)
I love this site. Not bad for a canuck ;-) Keep an eye on this guy... Everywhere you look is another clever use of lighting or typography that I wish I'd thought of first.
Yeah very true Lisa this a beatiful work...clean cut and tidy...
#2:

Landry karege

on 08/16 at 02:18 PM
This is a very nice work. Clean and simple. I like it.
#3:
nq
on 08/17 at 06:32 PM
Site is beautiful, but "Lucida Grande", "Lucida Sans" fonts look like S@%T on pc!
#4:

A dude...

on 09/09 at 02:25 AM
(Total Pages: 1)
Commenting is not available in this weblog entry.