Wipee List
Date: 11/16/2008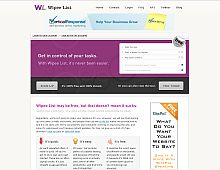 Rate It:
Color Scheme
Hovered color:
Selected color:
Comments (3)
I like the colors used in this site. Real, simple and to the point. A very user-friendly site
#1:
Rahul
on 11/16 at 08:28 PM
Why are all the headings images?
#2:

aguy

on 11/16 at 08:50 PM
good question...looks like they're using a basic sans-serif font....could've at least used image replacement. anyways, nice site.
#3:

tom

on 12/09 at 03:34 PM
(Total Pages: 1)