Wild Wings Safaris
Date: 11/08/2009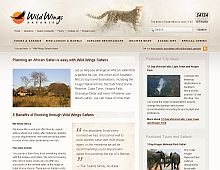 Rate It:
Color Scheme
Hovered color:
Selected color:
Comments (2)
This is a very clean design, my only gripe with it is the font size.

I think you could do a better job of having the fonts be readable. This will help you with your UX and make the overall experience better for visitors.
The site looks pretty much good to me.
(Total Pages: 1)
Commenting is not available in this weblog entry.