Webbrush73
Date: 02/01/2006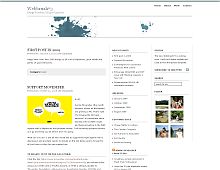 The large empty space at the top may not be to everyone's taste, but overall, just a very sleek design. Code is as clean as a whistle too.
Rate It:
Color Scheme
Hovered color:
Selected color:
Comments (6)
Thanks for including my site onto your list,you made my day. The space was intentionally left blank for the the new product that I'm working on. I just didn't have time to finish it on time :-(.. Once again thanks!
#1:
Igor
on 02/01 at 10:56 PM
I love the use of color on the black background as well as the layout. It is different but not too over the top. Nicely done.
#2:

kstearnes

on 02/02 at 04:57 PM
This is gorgeous! His use of color is brilliant, getting around is simple, the whole site is easy on the eyes and a pleasure to visit. One of the best designs combined with great usability I think I've ever seen :)
Very nice color sheme, i love it. Well done job.
#4:
Jonas
on 03/04 at 10:14 AM
Superb site, great use of colours, good content too.
#6:
Foddie
on 06/21 at 07:16 PM
(Total Pages: 1)
Commenting is not available in this weblog entry.