Walt's Bicycle Shop
Date: 04/20/2005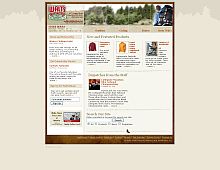 A nice warm blend of brown colors. The dark brown frame surrounding this design really helps bring it out.
Rate It:
Color Scheme
Hovered color:
Selected color:
Comments (8)
Neat website but I think it could be improved by the use of a contrasting background and better use of photography. I donít know about the outer glow on the photos and the overall grey look doesnít seem optimistic.

Other than that, nice!
Great stuff..although I do feel the background could have been touched upon..!
Ohh yeah, those colors match perfectly to the content of the blog. Glad to see more new designs.
I like the brown color scheme. :)
ugly, 1999 look
#6:

mark

on 09/23 at 08:43 PM
I don't really like it. It's a little outdated for a sport website. Looks lazy and impassive.
Really good but you can arrange it better. The color is a little outdated.
(Total Pages: 1)
Commenting is not available in this weblog entry.