VNC Church
Date: 06/06/2007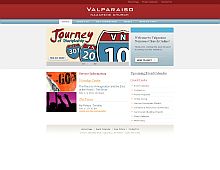 Rate It:
Color Scheme
Hovered color:
Selected color:
Comments (3)
The design is simple. I would make some changes as follows:

1. I would work on the color scheme of the header in order...

a. ...to have a better color scheme
b. ...to have a smoother transition between the colors

2. I would design and include a logo in the site.

3. I would find a solution for the better integration in the general structure of the secondary menu - URL: www.valponaz.org/connect/index.php

This site could be one of those which are awesome by their simplicity...

Zoltan Sebestyen
RespiroMedia.com
Actually that color scheme is nice. It's not the usual bright web 2.0-ified scheme but that's OK. And maybe those are their colors.

Respiro, If you mean an icon to accompany the logotype, not every organization/site needs that. And that isn't necessarily the job of the web designer. Logo design isn't something that should just be "thrown in" with web services. Maybe this designer isn't a logo designer and wasn't paid to provide that service.

The secondary nav could be integrated more smoothly though.
#3:

tubes

on 06/08 at 12:02 PM
(Total Pages: 1)
Commenting is not available in this weblog entry.