Viva Bit
Date: 03/27/2006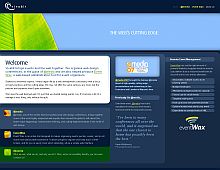 Just a spectacular, liquid design. From the smooth round corners to the sharp color contrasts all make you want to stay a little longer and baste in this design.
Rate It:
Color Scheme
Hovered color:
Selected color:
Comments (4)
Very nice and impressive scalability! I kept hitting the + and - keys in Firefox to "ooooh" at how it scaled in shape :) Nice header too.

Minor nitpick - I think the content is a little crowded, 3-column tends to be too much information for most users.
You may be right. There's a lot of text relative to images, which can make it appear a little overcrowded. but I just love the liquid layout.
An excellent liquid layout using fantastic color scheme .Greatly impressed by this gorgeous design
#3:
sc18
on 03/29 at 05:16 PM
easily one of the best designs on this here interweb....
(Total Pages: 1)
Commenting is not available in this weblog entry.