Visit Halls Gap
Date: 09/07/2005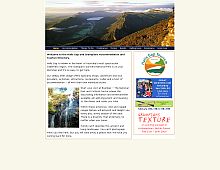 A very well put together, brochure like design and layout.
Rate It:
Color Scheme
Hovered color:
Selected color:
Comments (5)
I like the colours, diagonals and layout. The Print, text+ and text- are nice but non-standard and I don't think would help disabled so much. A skip navigation link would also help accessibility. (Look at the site with Opera and F11)
#1:
Peter
on 09/08 at 04:54 PM
Thanks for you comment Peter, I will add in that skip nav link you are talking about

Cheers Leon
#2:

leon

on 09/12 at 03:08 AM
Great Site! I enjoy the layout and how it is complex yet fairly easy to navigate. Just change the "attactions" *sp section :)
#3:

Nate

on 09/14 at 06:18 PM
In the same area, accommodation is misspelled, but spelled correctly on the top menu bar. Looks great!
#4:

JasonS

on 09/21 at 05:39 PM
(Total Pages: 1)
Commenting is not available in this weblog entry.