Victoria Gaskell Driving
Date: 11/07/2008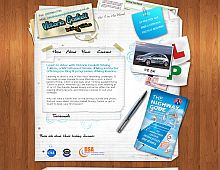 Rate It:
Color Scheme
Hovered color:
Selected color:
Comments (5)
hello
#1:
kopyae
on 11/07 at 11:19 AM
This website background is a direct ripoff of http://www.carsonified.com/
#2:

Brandon

on 11/10 at 04:37 PM
ahh, its a basic image of hardwood flooring... that's no big deal. the sites are completely different, carsonified.com may have just grabbed the image from some image resource website... the background image isn't really unique in any way...
#3:

a guy

on 11/10 at 08:13 PM
the background may be a stock photo from somewhere...but come on, be original!
#4:

tom

on 11/14 at 04:51 PM
There are millions of websites out there. If that is a stock image, both designers could have used the same image. Who's to say the "rip off artist" used it first? Unless you create your own background image from scratch, if you use stock images, you always run the "risk" of it appearing elsewhere...

Now if either one of those two designers actually created the image, then there is a "rip off" happening, but if they both used the same stock image, then they are both lazy for not creating their own image..., but neither would be considered a "rip". The safest way is to create all graphics yourself..
#5:

aguy

on 11/15 at 05:58 PM
(Total Pages: 1)
Commenting is not available in this weblog entry.