Venture Web
Date: 05/11/2010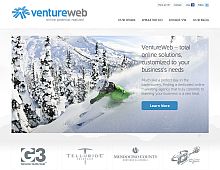 Rate It:
Color Scheme
Hovered color:
Selected color:
Comments (6)
I like the presentation style and specially the front page of this website. Very much presentable.
i like it.it is very nice design.
The background is very refreshing! Perfect for site used to cater Christmas related topics. The design is a little bit limited in use though.Jack Mower
#6:
JackM
on 06/08 at 02:34 PM
(Total Pages: 1)
Commenting is not available in this weblog entry.