Utah Travel
Date: 03/09/2010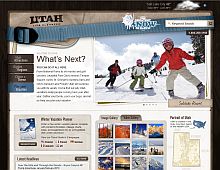 Rate It:
Color Scheme
Hovered color:
Selected color:
Comments (9)
Really nicely sorted information.
t ravel to Utah is really your wonderful idea,nice information.
Thanks
[url="http://www.cometocapetown.com/"]
cape town accommodation
[/url]
Cape Town Accommodation says:
"Interesting post, we shall be following your blog more closely in future! Best Wishes from Cape Town "
Heritage Pakistan, being a nation's or rather a population's inheritance is very sacred. It depicts that particular race's progress, development, and intuition towards the future.
very nice study i want to buy a template for my web site.
#4:
serkan
on 03/25 at 09:55 AM
This design is superb, but I think the designer should optimize the size of pictures. For example: top-winter.png is 254 kB and he can use jpg to avoid wasting kb. I'm not expert in this.

We can use a Free Poll maker to create a survery to check this
#6:

Julio

on 03/26 at 04:46 PM
Thank you

http://kashmirtravels.com
Thank you for information..

http://www.tanitimdukkani.com
cgfnyuf dbtyu ghd straighteners GHD Hair Straightener store.The new ghd Straighteners stylers including ghd Purple,pink ghd mk4,ghd iv styler,gold and black are on sale.
(Total Pages: 1)
Commenting is not available in this weblog entry.