UsableType
Date: 03/08/2005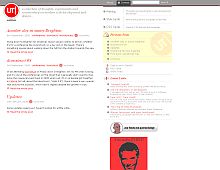 Clean cut, beautiful design. The simple lines are really effective here.
Rate It:
Color Scheme
Hovered color:
Selected color:
Comments (2)
The site is currently down as our 'lovely host' spends 4 hours changing a power supply!

Should be back within a few hours however.

Thanks for the link.
simple but effective two column layout.Typography is very nice
#2:
sc18
on 03/09 at 11:47 PM
(Total Pages: 1)
Commenting is not available in this weblog entry.