Untied Shoes
Date: 12/25/2005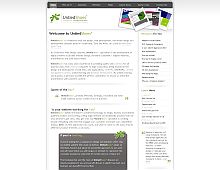 A very clean design. Nice use of gradients and shadows, and the CSS menu at the top is very sleek.
Rate It:
Color Scheme
Hovered color:
Selected color:
Comments (3)
Nice, but that logo is just like Mambo's logo. http://www.mamboserver.com/
#1:

Sergio

on 01/10 at 10:56 AM
Agreed, but this is just one of those coincidences, I have files on my machine with modified dates way back in 2000 showing the logo is an original design.

Cheers for the comment anyway.
#2:

Craig

on 01/10 at 12:51 PM
(Total Pages: 1)