The Spirit of Toys
Date: 05/27/2010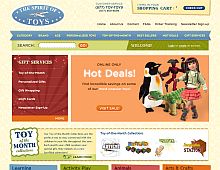 Rate It:
Color Scheme
Hovered color:
Selected color:
Comments (9)
I like the concept of your design. IMO I think you could work on the colors a little bit. However, its still a good looking website.

Brisbane Web Design
#2:

tony

on 05/30 at 07:54 PM
Lovely colors, easy to navigate layout and yet looking great, not too simple
Best, Jack from Riding Mower
Tony is right, you need to work with the colors to be able to get the perfect combination. I like how you manage everything. Aside from that, everything seems to be perfect.Sam Jones
The design of it looks very great! I mean the theme is about toys so it match the colorful design of it.Jack Mower
#8:
JackM
on 06/04 at 05:00 PM
(Total Pages: 1)
Commenting is not available in this weblog entry.