The Organic Supermarket.
Date: 12/01/2008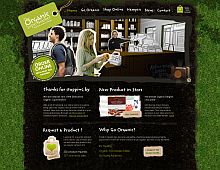 Rate It:
Color Scheme
Hovered color:
Selected color:
Comments (2)
Why does background on this site looks like a shallow grave?
Does this mean "Eat organic food, and you'll soon end up dead" :P
#1:

Micha

on 12/05 at 04:08 PM
Wow! Put a smile on my face visiting your site apart from loving organic food this site has a very wholesome feel good atmosphere. Looks good, invites you in and the imagery is great too. A bit of fun being had in there I'm guessing! Well done ...
(Total Pages: 1)
Commenting is not available in this weblog entry.