The Net is Dead
Date: 01/20/2006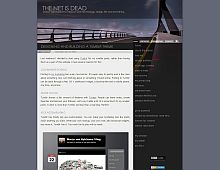 Nice work on the peicing of two background images to create a semi transparent look. Overall a very sleek design.
Rate It:
Color Scheme
Hovered color:
Selected color:
Comments (5)
excellent design! Nice colors and layout.
that is gorgeous.
#2:

David

on 01/21 at 12:32 AM
very nice
I like the menu especially.
#3:

kev

on 01/21 at 02:53 PM
I love your colour management - keep it up
#4:

Webgirl

on 01/24 at 09:04 PM
I have to agree, this is a great design, the transparancy works and the navigation is out of this world. Great job there...
(Total Pages: 1)
Commenting is not available in this weblog entry.