The Fan
Date: 03/16/2006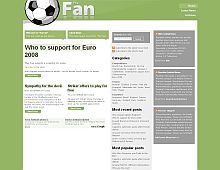 A lovely flexible layout. Non splashy colors that are kind to my eyes.
Rate It:
Color Scheme
Hovered color:
Selected color:
Comments (2)
Other than the 3 html errors due to misplaced quotation marks, this design of this site is great. The flexible layout is truly lovely, as cssdrive states, and is the site's finest quality in my opinion. A few graphics to spice up the content wouldn't hurt, though.
#1:
Chris
on 03/16 at 08:09 AM
I agree its nice, but...I get horizontal scroll bars!! 19" @ 1024x768. I remember you had to design for 800x600 as a golden rule, I realize thats not realistic nowadays, but designing for 1024x768 should be the MINIMUM target resolution as it is still the dominant resolution out there...
#2:

A dude

on 09/20 at 09:57 PM
(Total Pages: 1)