The Car Blog
Date: 11/22/2004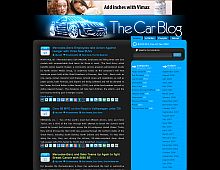 The contrasting dark and light colors make this design very impressionable. I would have preferred a wider left column to the right column, but that's just a personal taste.
Rate It:
Color Scheme
Hovered color:
Selected color:
Comments (16)
They did change the design to a better one recently. Keep up the good work and I have added you to my favourites!
I really love this website..
Each and every post is amazing over here..
thank you sir..
Very nice and informative post about ccc gallrery.
Nice design colors...very authentic!
wow, thanks for informing me, i really use it to my webste
Good design, but It is a little blankly.
Commenting is not available in this weblog entry.