The Car Blog
Date: 11/22/2004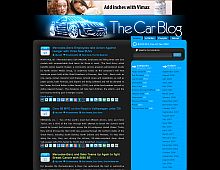 The contrasting dark and light colors make this design very impressionable. I would have preferred a wider left column to the right column, but that's just a personal taste.
Rate It:
Color Scheme
Hovered color:
Selected color:
Comments (16)
Love the design and colours, some good content and should help me with topics for my car related blog. Keep up the good work and I have added you to my favourites so I will be back soon. Cheers James
love the website.
#2:
Auto
on 05/27 at 05:44 PM
Looks professional. Good design colors.
#4:
Lenny
on 07/01 at 07:43 AM
Seems like they changed the template. The actual site looks different than of the screenshot shown here. But nice layout, nonetheless. Love the blue palette.

Regards,
Michelle
Thea header looks very stylish and modern.
Nice site )) Avtor respekt!
#7:
Anfi
on 07/31 at 06:43 PM
I like the look. I did not realize how important the right look can be on a website. My blog about
pasadena texas apartments has a different look. I like yours though.
#10:
andrew
on 10/13 at 03:37 PM
Commenting is not available in this weblog entry.