Tennessee Vacation
Date: 03/28/2008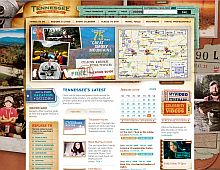 Rate It:
Color Scheme
Hovered color:
Selected color:
Comments (4)
SWEEEEEEEEET!
#1:

A guy

on 03/29 at 03:08 AM
Very nice design. It has a great feel to it.

Props to the designer/developers
this site is hot, and i wish i could make something that looks this pretty. but man is it busy, i'm not sure where to look?

hehe just noticed the google map integration on the home page, very subtle and nice. well done
#3:
mooty
on 04/04 at 09:18 AM
Hey great work man!!!Looks excellent,I like very much
#4:
Rathna
on 10/22 at 02:03 PM
(Total Pages: 1)
Commenting is not available in this weblog entry.