Tennessee Education
Date: 05/07/2008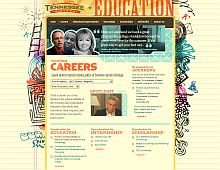 Rate It:
Color Scheme
Hovered color:
Selected color:
Comments (2)
Lots of colors can work, but sadly not here.
I just wanted to get out of there, my eyes were hurting to bad.
#1:

Gunnar Bruun

on 05/07 at 12:31 PM
A lot going on in this one, really steals attention.
#2:
Craig
on 09/07 at 03:36 AM
(Total Pages: 1)
Commenting is not available in this weblog entry.