Team Fannypack
Date: 12/14/2009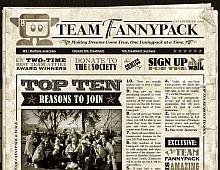 Rate It:
Color Scheme
Hovered color:
Selected color:
Comments (2)
I like the user interface of this website. Newspaper style... quite cool.
The site has a good use of textures.

I would rethink the typography. Not a lot of the text on your site is scannable. I would look into using cufon, typekit or sifr to try to do this with real fonts instead of images.

I'd also try to make the body font more readable. Perhaps I would increase the paragraph spacing to help the eyes.
(Total Pages: 1)
Commenting is not available in this weblog entry.