Sturgeon for Tomorrow
Date: 05/01/2008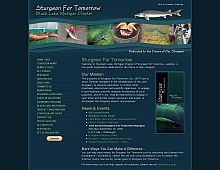 Rate It:
Color Scheme
Hovered color:
Selected color:
Comments (2)
2 thumbs up for validating code. I am just not a fan of that font used in the header. Looks a little dated. Other than that, nice work.
I agree, not horrible. but definetely looks dated and not much effort put into it at all, i'm suprised this is in a gallery of the best web designs.
#2:
mooty
on 05/04 at 10:22 PM
(Total Pages: 1)
Commenting is not available in this weblog entry.