Strawberry Leisure
Date: 11/26/2008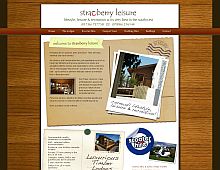 Rate It:
Color Scheme
Hovered color:
Selected color:
Comments (4)
Just by looking at the thumbnail, this screams "WORDPRESS!!!"
This falls in the same Wordpress mold as a gazillion other Wordpress sites....
#1:

aguy

on 11/26 at 04:43 PM
nice themes, can you tell me where to download one of those themes? I want to make it as my background.
I love the classic look of that one..
#3:
Reith
on 11/27 at 11:01 AM
What does the wood background have to do with the rest of the site? I don't get it...
#4:

bobDole

on 11/30 at 03:17 AM
(Total Pages: 1)
Commenting is not available in this weblog entry.