Storm to the cape
Date: 07/27/2005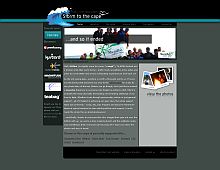 I just appreciate designs where the author makes it easy for the viewers to navigate back to the frontpage of the site from any page within. With this attractive design, the nicely integrated site logo serves that purpose.
Rate It:
Color Scheme
Hovered color:
Selected color:
Comments (3)
I think this is an amazing template.
#1:
M
on 08/01 at 03:46 PM
Um, I like the site too, but it isn't it 'Storm To The Cape?'. ;)
You say cape I say cap. hehe. Anyhoo, fixed the typo.
#3:
admin
on 08/09 at 07:55 PM
(Total Pages: 1)
Commenting is not available in this weblog entry.