StirMan
Date: 01/25/2005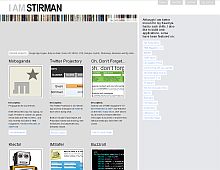 A great cutting-edge use of CSS's fixed background really sets this design apart from the conventional two column look. I like it. The links on the left are a little small and indistinguishable from regular text in the same area, but that's the only thing I can pick on.

Note: Screenshot updated July 13th, 05'
Rate It:
Color Scheme
Hovered color:
Selected color:
Comments (8)
This site is a real pleasure.
The design is superb and original (just one regret : I would have like more space above). It is clear and usable, and the guy is both a really good designer (have a look on the porfolio), and a fine programmer with a practical approach of the web.
Hope he's a good musician, too (we'll have to wait until his "music" page is filled to know...)
#1:
jr
on 01/25 at 03:04 PM
Stirman is the man. Excellent design and witty blogs. Music lovers will no doubt be intro'd to some new stuff, and I look forward to his original music as well. The guy has talent.
#2:

pelotas grandes

on 01/25 at 06:58 PM
I am a dj and I put out a mix cd last December. Mid production, my designer flaked on me and did not return my calls. With little time to spare, I called up Stirman. He was incredibly helpful and produced a final product that far exceeded my expectations.
#3:

Travis Ziebro

on 01/25 at 07:08 PM
Stirman is a true artist and Technological genius. I have a non-profit organization and Stirman has provided idea that will be implemented into a website that will go beyond the norm. There is a great need in helping western society connect with the needs in other parts of the world. We will be doing this in Nigeria. Be looking for Stirman's work to bust into the scene. I think people would be a miss not to inquire him for their projects.
#4:

Scott Hackman

on 01/25 at 07:34 PM
This site is very asthetic. Just what I was looking for. Restraint, color, and fuction are all incorporated.
A really great design, and excellent professionalism. He brings a freshness to programming.
#6:

Jeff Perry

on 01/27 at 04:49 PM
The red navigation image is really very original. Perhaps the footer should have some "zing zang" too because i find it too simple and contrasts too much with the header. But overall it's a very clean design :)
flash games
mobile games
Yup I agree, Stirman is True artist, Everything comes as a treat to the eye with the colors and design balanced to present the image in the best way.
(Total Pages: 1)
Commenting is not available in this weblog entry.