Spread Fire Fox
Date: 09/22/2004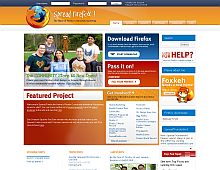 A very nice three columns layout that adheres to standards perfectly. Appropriately so, the site's trying to push an awesome, standards aspiring browser- Firefox! Very cool, clean colors, and tables are only used to show tabular data (top ten list of participants).
Rate It:
Color Scheme
Hovered color:
Selected color:
Comments (2)
very good
#1:

Tiep

on 02/03 at 06:54 AM
(Total Pages: 1)
Commenting is not available in this weblog entry.