Spine Studio
Date: 04/08/2006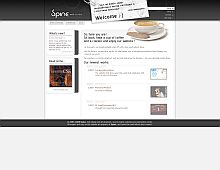 Handsome design is the way I'd describe this one. I love the inverted horizontal tab menus at the top, and using black and white for the site's main colors just helps any other color really stand out.
Rate It:
Color Scheme
Hovered color:
Selected color:
Comments (5)
Wow! I really like this design! I'm a sucker for diagonal lines :-). Overall, a good layout, excellant graphics and content presentation!
Black and white results in a beautiful site.A nice layout.
#2:
sc18
on 04/09 at 07:42 AM
Nice contact form, too.
#3:

Taki

on 04/10 at 09:57 AM
Excellent design..
I just love it like anything..
Nice design and easy-to-use interface. Superb tool.

Robert C.
(Total Pages: 1)