Shylands
Date: 01/07/2008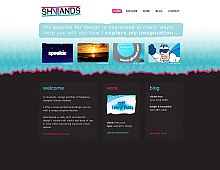 Rate It:
Color Scheme
Hovered color:
Selected color:
Comments (4)
Horrible use of color, and distracting jagged line right through the middle.
I just wanted to get out of there, sorry.
#1:

Gunnar Bruun

on 01/07 at 01:56 PM
I like the layout, but the bright blue isn't easy on the eyes. Other than that, I like it.
I like the colour scheme but I agree that the jagged lines would be better as clean horizontal ones, or a slight wave/curved effect. Perhaps give the background for the top header a darker colour so the white text shows through. Other than that, not bad.
#3:

ferdo

on 01/09 at 06:06 PM
such a gorgeous site, with a unique colour scheme!
#4:

designerwatcher

on 08/26 at 07:11 AM
(Total Pages: 1)
Commenting is not available in this weblog entry.