Shopping Organic
Date: 04/25/2007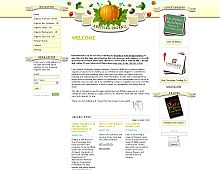 Rate It:
Color Scheme
Hovered color:
Selected color:
Comments (4)
Pleasant colour scheme, the navigation works well enough but a bit boring imho. And NO CONTENT!
I liked the colour scheme. In India people celebrate colour festival and some others also. Particularly in Raksha Bandhan brother gives Rakhi Gifts to sister.
Pretty good theme. Works good for winter months, but gotta switch it out one spring comes along. =P
I give it a 7 out of 10 because i love the holidays!

- Kay
mood: reminiscent
music: coldplay - clocks
currently: shopping
Most organic products have the same shelf life as regular products, but that organic breads and pastries don't last as long because they don't have any preservatives.
(Total Pages: 1)
Commenting is not available in this weblog entry.