Sharewell Group
Date: 02/13/2008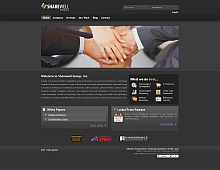 Rate It:
Color Scheme
Hovered color:
Selected color:
Comments (18)
I really like this a lot. I especially enjoy the home page, with it's sections, very easy to follow, nice hierarchy.

Excellent job on the "What we do best..." area, looks very clean.

Not too crazy about the menu, seen it one too many times, but other than that, nice job!
This site has amazing flow. Great contrast!!! I hope to see more sites like this!
#2:

Walter Elias

on 02/14 at 12:43 AM
This site is slick! Awesome choice of colors and implementation of subtle rollover effects. This is the kind of design that shows true graphic design skills. I can't wait to see more stuff!
This page rendered completely differently in FF 2.0.0.12 and IE 7.0.5730.11.

In IE it looked as I expect it should. In FF, there was the main image near the top that appears in IE, as well, but two more large images that mostly obliterate the text content.
#4:

DMoriarty

on 02/14 at 04:40 PM
@DMoriarty
What are you talking about in FF? I tested this in FF 2.0.0.12, and IE7 both on XP, and FF 2.0.0.12 on Windows 2000 and I am not seeing these extra images.

Be more specific...
@DMoriarty

Is it possible you have Javascript disabled? If so you will likely see the banner images stacked on top of each other. We opted to go with a rotating banner with Javascript rather than a Flash implementation.
DMoriarty, if Jamison is right, I highly recommend you enabling on Javacript, for it is a big part of the internet. If not, reformat.
#7:

Roy Edward

on 02/14 at 06:53 PM
@Jamison
I think it was great you opted the JS route over Flash, but what about tweaking it so you can still see the content even if JS is off?
Wull... I dunno about this here javascript thingie...

LOL... Yeah, that was it. I run NoScript in FF -- but I DID look for the typical NoScript info deal so I could turn JS on for the site -- it was, of course, the FIRST thing I thought of when I went to the page. But, for whatever reasons, the NoScript options weren't there, *seeming* to indicate the page didn't use JS...

Anyhow, I probably should have looked through the code before making that assumption -- but NoScript is usually pretty smack on about sniffing out JS...

Anyhow, sorry for the false alarm!!!
#9:

DMoriarty

on 02/14 at 09:21 PM
PS... Looks good!
#10:

DMoriarty

on 02/14 at 09:22 PM
Commenting is not available in this weblog entry.