Ryan Werth
Date: 02/15/2006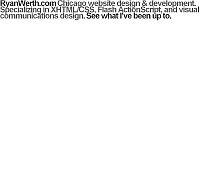 This design may be a little too subdued and "gloomy" for some, but my only complaint is that the text is a little light, and probably should just be made black.
Rate It:
Color Scheme
Hovered color:
Selected color:
Comments (2)
I really like the simplicity of the site. Sites can be powerful enough with less if done right, and this is a prime example. Great work.
#1:

kstearnes

on 02/20 at 09:08 AM
Modern is my style, this one is one of my favorite to be honest.
#2:
NeboN
on 03/25 at 05:02 PM
(Total Pages: 1)