Recycle Now
Date: 06/29/2006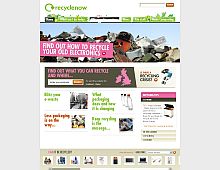 There are a lot of images used in this design that may hinder people on slower net connections, but visually, it's very nice indeed.
Rate It:
Color Scheme
Hovered color:
Selected color:
Comments (2)
Very nice navbar and divider.
#1:

Taki

on 06/29 at 10:01 PM
Speaking of color usage, my god, can you put brown next to blue, white, pink, lavandel, light green, orange, dark green, turkois and a sort of red-brownish something??
(Total Pages: 1)
Commenting is not available in this weblog entry.