Reason
Date: 01/09/2008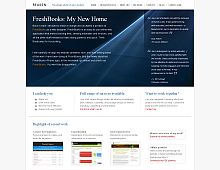 Rate It:
Color Scheme
Hovered color:
Selected color:
Comments (4)
I like it a lot!!!!!
Not too busy, but still visually appealing.
Nice icons too, and the overall look is professional and well thought out.
#1:

Gunnar Bruun

on 01/09 at 03:33 PM
Создание сайтов в Ярославле! Раскрутка, поддержка сайта
Fortex-club. Welcome!!!
#3:
Alex
on 01/13 at 11:24 PM
Copied some text from Wake Interactive (http://wakeinteractive.com/). Otherwise a decent looking site.
#4:

Gabe

on 01/16 at 11:45 PM
(Total Pages: 1)
Commenting is not available in this weblog entry.