Psdtowp
Date: 04/24/2009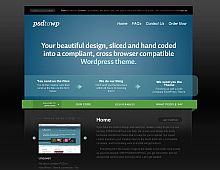 Rate It:
Color Scheme
Hovered color:
Selected color:
Comments (5)
Doesn't work in IE6 or 7.
#1:

Andrew

on 04/26 at 06:57 PM
ha ha! this is way to funny! "You beautiful design, sliced and hand coded into a compliant, cross browser compatible Wordpress theme" and it breaks in the most widely used browser in the world! IE7!!! hee hee... "AWKWARD!"
#2:

aguy

on 04/27 at 03:31 AM
better watch out... that's not a professional company. it's a 14 year old behind this site, not able to code everything and also not answering to your emails...

beware!
#4:

Mark

on 05/21 at 11:24 AM
Yes, this is really amateur stuff. Did they not bother to test this in Internet Explorer?
How did this site ever get to be on CSS Drive?
(Total Pages: 1)
Commenting is not available in this weblog entry.