Pixel Plain
Date: 12/12/2004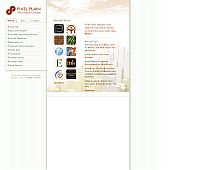 What can I say, just a fabulous, compact layout and design. The DHTML tabs on the left just adds to its compactness.
Rate It:
Color Scheme
Hovered color:
Selected color:
Comments (4)
logo looks a bit like surfstation's logo.

http://surfstation.lu/24/corporation/c_02.gif
internette aradıgınız hersey
#2:
mehmet
on 11/26 at 05:38 PM
netcı ajansi internet aracilik hizmetleri
#3:
mehmet
on 11/26 at 05:38 PM
It could look like surfstation logo, but the shape itself is a variation of an infinity shape.
#4:

Jack

on 12/17 at 03:13 AM
(Total Pages: 1)
Commenting is not available in this weblog entry.