Patel Strategy
Date: 10/24/2008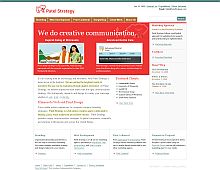 Rate It:
Color Scheme
Hovered color:
Selected color:
Comments (5)
nice and clean layout. nice logo too. What CMS are you using?
#1:

tracy

on 10/24 at 07:27 AM
thats WordPress. Can smell it from a mile away!
#2:

aguy

on 10/24 at 10:31 AM
Yes, the site uses WordPress (which we love btw). The template uses several page styles, custom fields, and conditional coding.

Thanks for the complements.
still looks pretty generic... typical WordPress site...
#4:

aguy

on 10/24 at 09:40 PM
Book bu konuda size yardımcı olabilir. Eğer isterseniz tabii..
#5:

Gokhan Baba

on 10/30 at 03:05 AM
(Total Pages: 1)