Pasghetti
Date: 04/27/2005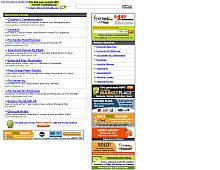 The source probably could be cleaned up more, but apart from that, visually, I like this colourful design.
Rate It:
Color Scheme
Hovered color:
Selected color:
Comments (2)
I'm not too much on the blocked gradients. I think that they could have been smoothed out a bit more. Unless that was the desired effect. Other then that. The colors do go well together.
#1:
Matt
on 04/28 at 06:12 AM
Thank you very much for putting my site up. This was my first attempt at a 100% markup and CSS design, so although there are some issues to take care of here and there, I was pleased. ALl comments are welcomed. Thanks.
#2:

Adam Helweh

on 04/29 at 12:17 AM
(Total Pages: 1)