Paravel
Date: 11/20/2009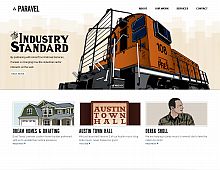 Rate It:
Color Scheme
Hovered color:
Selected color:
Comments (5)
The site has a unique style, reminds me of those Financial Planning commercials.

I think the navigation could be larger and more prominent. You know your analytics better than I do, but I would make that a tad larger and maybe A/B test it to see if it helps with the amount of pageviews and pages/visit.

Great use of color, but id close the gap between the bottom three columns and the footer, there is a ton of whitespace.

Great job overall.
Very nice and illustration are great.
(Total Pages: 1)
Commenting is not available in this weblog entry.