Pannasmontata
Date: 07/12/2006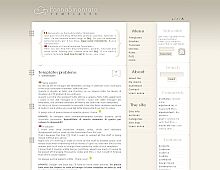 Rate It:
Color Scheme
Hovered color:
Selected color:
Comments (3)
fantastic, usefull and easy
I like this, good idea. It's industrial and fresh at the same time. The tag and navigation look cool too. The SEO isn't that great I guess, but of course I can't read spanish keywords...
dsgsg
#3:
ff
on 03/01 at 03:23 PM
(Total Pages: 1)
Commenting is not available in this weblog entry.