Organically Digital
Date: 05/21/2005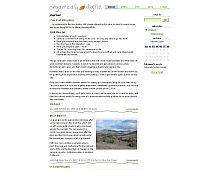 A few simple lines and an attractive header, and you've got a design that can go toe to toe with much more complex ones.
Rate It:
Color Scheme
Hovered color:
Selected color:
Comments (3)
I'd add a background-color of white
#1:
Bill
on 05/23 at 09:23 PM
It seems too simple; I see a lot of sites that are oversimplifying to the point of almost pure negative space.
Without a lot of substantial content,
it conveys a sort of flatness, and not just in the visual sense.
#2:
hink
on 06/12 at 07:41 PM
I agree with the last comment...it just looks like a word document online...I think "overly simple"...open space is cool, but this is pretty baron..
#3:

A dude...

on 09/02 at 05:39 PM
(Total Pages: 1)
Commenting is not available in this weblog entry.